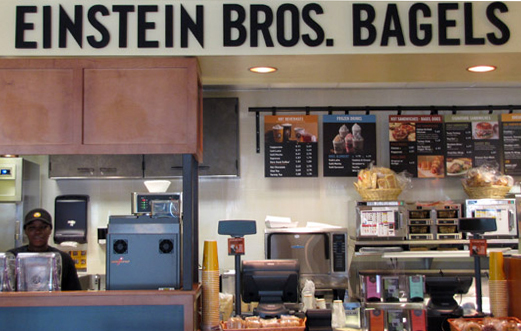 Einstein Bros Bagels
Three PPG Place
412-434-0343
www.einsteinbros.com
Hours:
Sunday-Saturday: 6 am – 2 pm
We all have our heritage, our history, and our genealogy. Where we're from, how we got our start in life. We, of course, got our start in life as bagelers. We've run all kinds of bagel shops, and made all kinds of bagels.
From Plain to Pumpkin, we've created new recipes, tasted them and tested them. From San Diego to Salt Lake City, from Atlanta to Pittsburgh, we make more than 350,000 bagels every day, each one as important to us as the next.
Let's be honest. People in business meetings want more than dry-erase markers and pie charts. They want food. We specialize in meetings, especially the breakfast and lunch kind.
Our Fancy Schmancy Catering (okay, we exaggerate just a little bit) Nosh Boxes and Box Lunches are filled with the same fresh and wonderfully tempting items you'll find in our stores.