Plaza and Water Feature at PPG Place
The PPG Place Plaza is a one-acre year-round attraction with trees and seating areas surrounding the unique water feature during the warm weather months and an ice rink during the winter months. The Plaza is the site of a variety of activities throughout the year.
THE WATER FEATURE AT PPG PLACE IS  CURRENTLY BEING RENOVATED AND WILL BE CLOSED INDEFINITELY.
EFFECTIVE MAY 1, 2015 PPG Place, including the PPG Place Plaza, is a Smoke-Free Zone.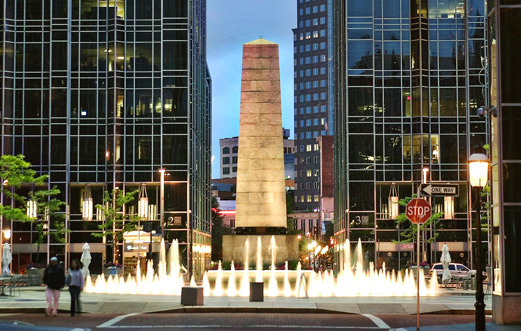 From spring through fall, the Plaza is a tranquil seating area with tables and plants surrounding a unique Water Feature. During the warm weather months, pick up a lunch in the Food Court in Two PPG Place, have a seat and enjoy the sights and sounds of downtown Pittsburgh.
Water Feature at PPG Place Information
Water pulses from the surface up to a height of over fifteen feet, with no barrier between the fountain and the rest of the plaza. The water disappears into the plaza surface and is recycled. The 140 columns of water are dramatically accented by 280 underground lights, providing a breathtaking display at night.
The feature was designed by WET Design of Universal City in collaboration with SWA Group and officially opened in the spring of 2003.
Water Feature at PPG Place Operation
THE  WATER FEATURE  AT PPG PLACE IS  CURRENTLY BEING RENOVATED AND WILL BE CLOSED INDEFINITELY.
The water feature operates from 6 a.m. to 6 p.m. daily. In order to maintain a pleasant business environment at PPG Place, the Water Feature is turned off intermittently throughout the day.
Guidelines
Children must be supervised by an adult at all times.
Running is not permitted.
Street clothing and shoes are required at all times.
Beachwear, towels and sunbathing on the Plaza are not permitted.
Lying or sunbathing on the Plaza surface is not permitted.
Bikes, skateboards, and animals are not permitted on the Plaza.
Do not drink the water – it is chemically treated and re-circulated.
The Ice Rink at PPG Place
The Plaza is transformed from mid-November through mid-February  into The Ice Rink at PPG Place, a spectacular one-of-a-kind outdoor ice skating rink.